Micro Dispensing System - MDS 3010+-Series

The Micro Dispensing System MDS 3010+ stands for most flexible dispensing of low viscosity fluids.
The highest precision system MDS 3010+ dispenses minimal amounts in the nano- and subnano-range and is suitable for a vast amount of demanding industrial applications.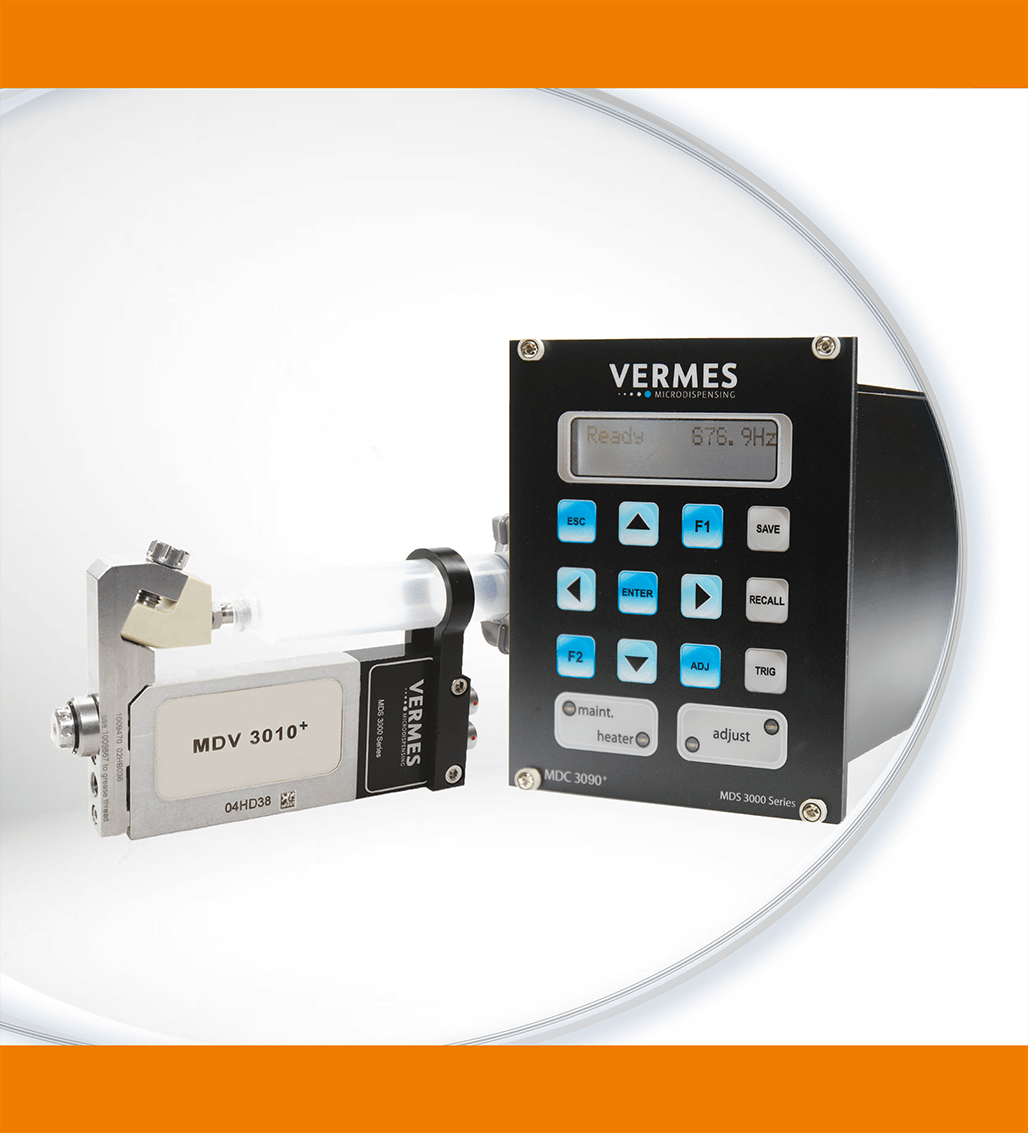 Perform Most Complex Industrial Applications
Highest Precision, Contact-free, Piezo-based Dispensing
Highest Throughput in a vast amount of Applications
Modular Design allows User-defined Configurations
Fast and Easy Maintenance
The MDS 3010+ system is mainly used for dispensing aqueous solutions or low viscous oils with up to 300 mPas. It is recommended for its high precision.
It also allows the creation of user-defined configurations with a variety of nozzles and fluid boxes for each media and dot size.
Major Advantages
The Micro Dispensing System MDS 3010+ dispenses minimal amounts in the nano- and subnano-range and is suitable for a vast amount of low viscosity applications.
The valve contains a piezo of the latest generation, which is activated for the dispensing process by a control unit.
The systems's controller MDC 3090+ is also compatible with all valves of the MDV 3010+ and the MDV 3020+ series.
The extremely fast and precise piezo jet valve can perform several hundred shots within a second, and this with very high repeatability precision. The valve is a "normally closed system", which means it is securely closed while in non-operating state.
The modular design of the MDS 3010+ allows user defined configurations for various applications. It is possible to adjust the same system to very different process and fluid parameters of low viscous media with the exchange of just a few parts.
There are multiple different nozzle units available that have been designed for a wide range of media and dot sizes.
The solution is perfect for micro-applications with ever more complex functions, fast and highly accurate production processes in which exact application of high-quality, low viscosity media is essential.
Recommended Media:
A vast selection of components allows for a very high media compatibility. These include for example:
Aqueous Solutions
Anaerobics
Organic Solvents
Cyanacrylates
Oils
Greases
Lacquers.
Main Industries:
The system is suitable for a wide range of industrial applications. The MDS 3010+ micro dispensing systems are used throughout the world in laboratories and automated production plants of industries, such as:
Medical Technology
Pharmaceutics
Microelectronics
Consumer Electronics
Precision Mechanics.
In the field of medical products and pharmaceuticals manufacturing the VERMES Microdispensing Systems of the model line MDS 3010+ are used for example for dispensing enzym solutions onto blood sugar test strips.
Download our Product Flyers - VERMES Microdispensing Systems
Download our Customer Newsletters
Download our Product Trailers