Micro Dispensing System - MDS 3200+ Series

Piezo valve for jetting high viscous fluids with up to 2.000.000 mPas. Nonstop operation with up to 1000 Hz possible. High process stability and flexibility thanks to modular design. Low total cost of ownership (TCO).
Mode of Operation:
Every VERMES Microdispensing valve contains a piezo of the latest generation, which is activated by a control unit for the dispensing process. With each impulse the piezo opens and closes a nozzle with a tappet. The tappet is connected via a sophisticated lever system with the piezo stack and transfers the full power of the piezo to a dispensing medium, which flows under pressure towards the nozzle. Because of the extremely fast and precise up and down movement of the piezo, several hundred shots can be dispensed within a second, and this with very high repeatability precision. In contrast to the low and medium viscosity systems, the MDS 3200+ is open when in non-operating state (Normally Open).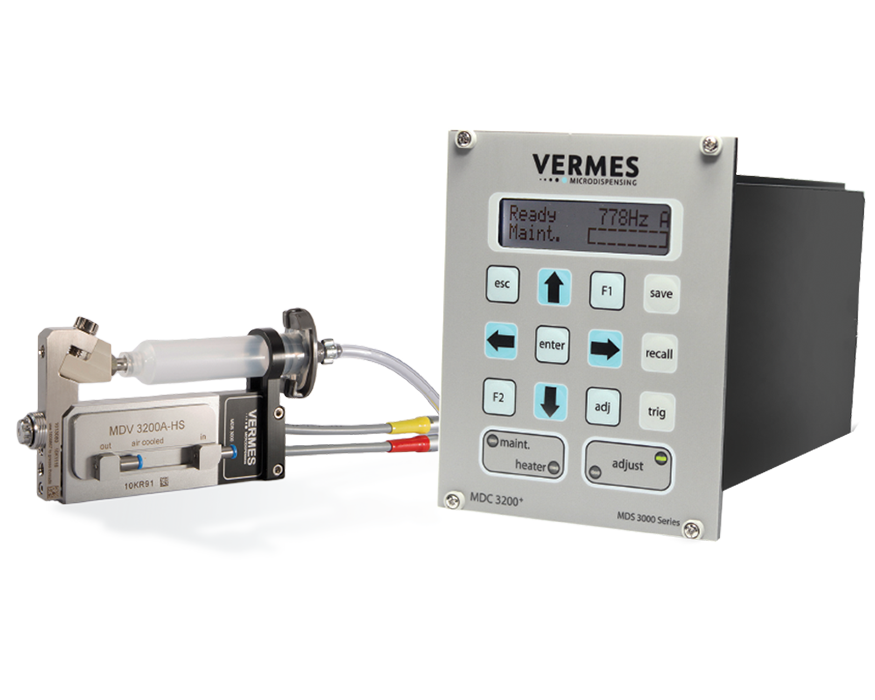 Medium to High Viscosity Industrial Applications
Highest Precision Piezo-based Dispensing
Production Proven Design
Wide Range of Applications
Peerless Integration into Tightest Spaces
Tried and Tested in the Field for Many Years

Low Total Cost of Ownership (TCO)
The ability to dispense droplets with a diameter of less than a human hair (less than 150 micrometers) on the substrate with exceptional consistency, repeatability and shortest cycle times simultaneously improves throughput and reduces production costs.
Major Advantages
| | |
| --- | --- |
| Fast: | Opening and closing of the valve for max needle lift with more than 3000 Hz (Depending on application and Media), nonstop operation with up to 1000 Hz. |
| Versatile: | Freely adjustable parameter settings allow to customize the jet properties to the dispense fluid properties. Electronic control unit allows change of dispensing parameters without delay. Also compatible for low or medium viscous media (if the tappets are switched often or if the dispensing amounts are very small). |
| Precise: | High repeatability of drop-to-drop dispensing volume for media of all viscosity. Dispensing into cavities, grooves and irregular surfaces. |
| Powerful: | Converting the force of the latest generation piezo through sophisticated mechanics, the system can jet highest viscosity media with pressures of up to 1.000 bar. |
| Flexible: | The modular design of the MDS 3200+ allows user defined configurations for various applications. You can adjust the same system to very different process and fluid parameters with the exchange of just a few parts. You can use a number of different nozzle units for a wide range of media and dot sizes. For the optimum performance it is possible to choose from different tappet geometries. You can choose from several different component materials, which allows for virtually unlimited media compatibility. |
Recommended Media:
The MDS 3200+ is an all-round system for medium to high viscosity media. It is suitable for the application of a wide range of fluids, such as:
SMT Adhesives
Filled Conductive Glues
Silver Conductive Adhesives
Solder Pastes
Solder Fluxes
Silicones
LED-phosphor
Underfill materials
Hot Melts.
Application Examples:
These include micro dispensing applications in:
Automation
Electronics
Mechanical Engineering
Vehicle Electrics
Medicine
Pharmacy
Information Technology
Consumer Electronics.
Download our Product Flyers - VERMES Microdispensing Systems
Download our Customer Newsletters
Download our Product Trailers