Micro Dispensing System - Media Supply
The media supply includes all parts that are involved to guide and transmit the fluid to the nozzle. Beside the fluid box and its accessories, it mainly consists of the supply unit, e.g. the cartridge and its holder. The standard supply pressure can be set between 0.1 bar and 8.0 bar. For some applications even higher pressure is possible.
Depending on your configuration and dispense medium a range of different materials is available for those parts. The media supply can also be adapted to demanding space requirements. The fluid box, e.g. is not only available as standard version but also as left- or right-angled model. For large quantities you can use a pressure tank instead of the cartridge. For the details please check the respective sections.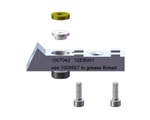 The purpose of the fluid box is to transport the dispense medium from the cartridge or tank to the nozzle unit. It can be made of different materials and in different configurations, e.g. left- or right-angled. The fluid box is thermally isolated from the actuator system.
The media supply usually uses cartridges, which are available in various sizes (e.g. MDX 3080 CC/10 with a 10 ccm cartridge).
For processes, where heating of the dispensing medium is required, fluid boxes with integrated heater are available.
The newly designed "Bayonet Fluid Box Body" has been equipped with an innovative connector technology, which allows for a flexible one-click removal of the fluidic part from the valve body (no screws, no tools). This enables easy handling and quick cleaning. The new design makes the media supply rotatable so that the valve can be perfectly adapted to e.g. the desired dispensing direction. It also enables the fast and seamless integration even into most inaccessible or tightest spaces.
Which configurations are available?
Fluid boxes with integrated cartridge connector
Fluid boxes with direct pipe- or tube connector
Fluid boxes in different forms:
straight, right- or left-angled or as twin fluid box with 2 openings
MDFH fluid boxes with integrated heater
MDFH-BY fluid Boxes with dismountable, integrated heater ("Bayonet Fluid Box Body")
FA fluid boxes are suited for special media,
e.g.: cyanoacrylates (Superglue) or anerobic glues.
There are 2 types of fluid box connectors:
Cartridge Connector:
PEEK and stainless steel, Fluid box connector Luer-Lock
Tube Connector:
PEEK and stainless steel for different tube sizes
The VERMES Microdispensing Systems are modular. Media carrying components, like nozzles, fluid boxes and supply units, can be adapted to all VERMES Microdispensing valves.
A fluid box can easily be disengaged from the valve, just by opening two screws. This allows for independant cleaning. Fluid boxes equipped with "Bayonet" connector technolgoy can be removed with one-click without using tools or screws.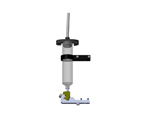 Supply Unit - MDX
The MDX is the supply unit of a VERMES Microdispensing system. The main parts are the cartridge and the cartridge holder. Cartridges are available in different sizes, from 3 cm³ up to 55 cm³, right with the respective holder.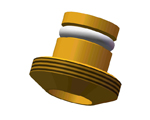 Fluid Box Accessories
Tappet sealings, tappet centering pieces, tighting screws and cartridge connectors belong to the accessories of the fluid box. For most parts different materials are available, e.g. stainless steel or PEEK (Polyetheretherketone).
Our staff will be pleased to assist you in finding the right combination for your application.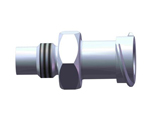 Fluid Box Connectors
There are different ways to connect the dispensing medium to the fluid box. For connecting a cartridge we recommend a Luer-Lock connection. For larger dispensing quantities we also offer hose connections.
Download our Product Flyers - VERMES Microdispensing Systems
Download our Customer Newsletters
Download our Product Trailers