Micro Dispensing System - Lerner Line TD218 System

The Lerner Line TD218 System is a contact-free, reliable dispensing solution based on Piezo technology.
It delivers fast and precise dispensing results over flat and uneven surfaces.
The Lerner Line TD218 System was designed for the accurate dispensing of low to high viscosity media.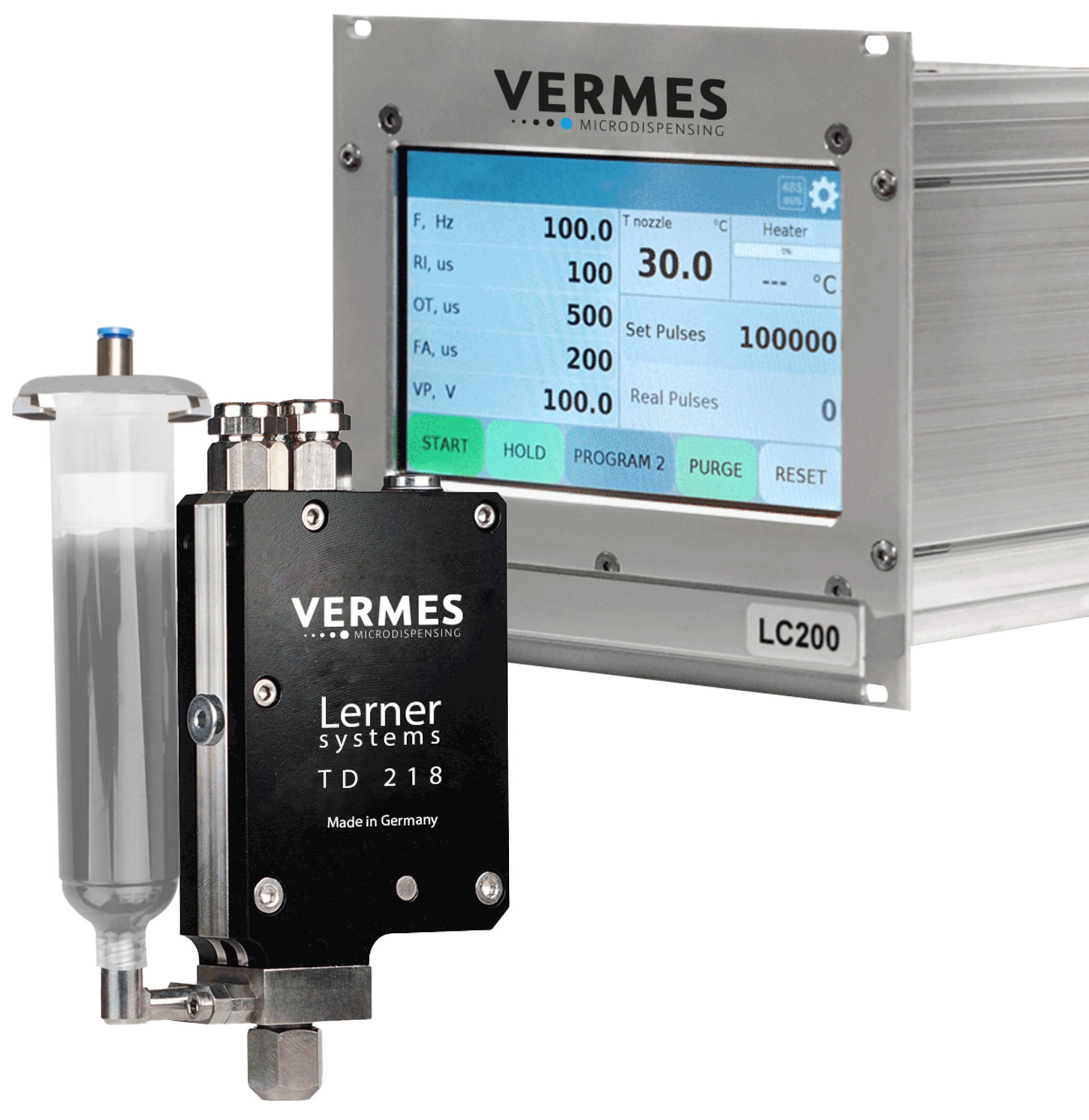 Based on Piezo Technology
Modular Design for Flexible Configurability
Precise, Contact-Free Jetting
Quick Adjustment to Changing Dispensing Requirements
Fast Serviceability
High Stability
Major Advantages:
The Lerner Line TD 218 System performance very exact, repeatable single dots as well as lines.
The modular design of the Turbo-Dot-Jet-Ventil TD218 allows easy removal of parts, such as nozzles inserts, tappets, and media supply.
Thus, making it possible to dispense a wider range of fluids of different viscosities and customizing it for different application requirements.
Only three parts, which are separated from the actuator come in contact with the medium, simplifying serviceability and maintenance.
The Lerner Line TD 218 System is a perfect solution for industrial applications due to its robust and proven construction.
Recommended Media:
The Piezo-based Lerner Line TD 218 System dispenses low to high viscosity media. It is suitable for the exact application of a wide range of fluids, such as:
SMT Adhesives
Conductive Glues
Solder Pastes
Solder Fluxes
Underfill.
Application Examples:
These include micro dispensing applications in:
Automotive
Mechanical Engineering
Information Technology
Electronics
Semiconductors.
Download our Product Flyers - VERMES Microdispensing Systems
Download our Customer Newsletters
Download our Product Trailers