Micro Dispensing System - Lerner TD118 Series

The Lerner TD118 System is designed with a high-performance electro-pneumatical jet dispensing valve Turbo Dot TD118 for contact-free microdispensing of media with low up to high viscosity.
It offers manufacturers a fast and easy way to produce precise and repeatable micro-deposits.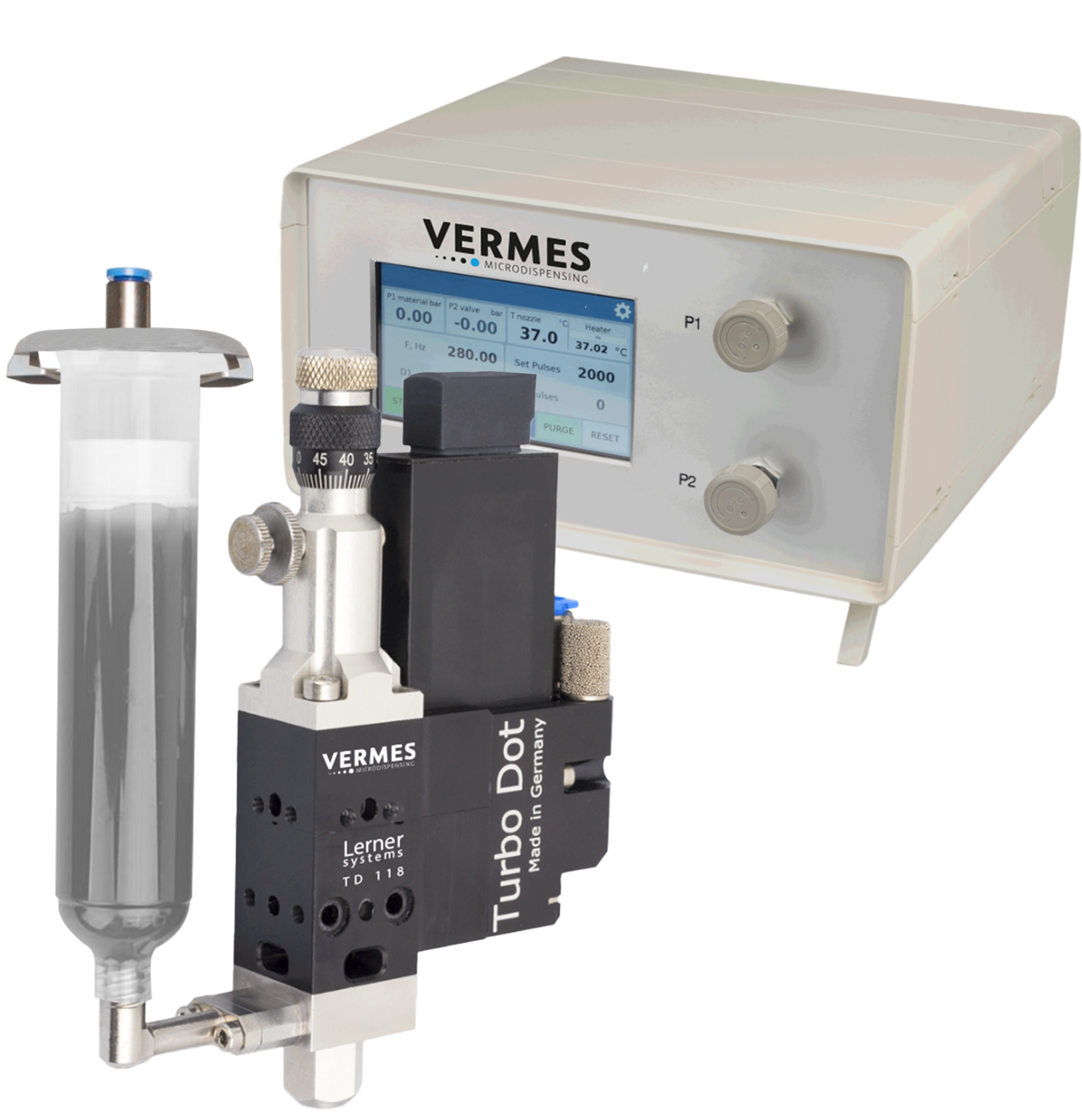 User-Friendly Electro-Pneumatic Dispensing
Time Saving Implementation into Dedicated Processes
Precise, Contact-Free Jetting
Effortless Change of Parts
Low Voltage Operation
On-the-fly Adjustability
Modular Design
Major Advantages:
The jet dispensing system Lerner TD118 can be uniquely configured to achieve the best dispensing performance and results for the selected media and application.
The valve allows three-domensional - 3D - dispensing into difficult to access parts and onto uneven surfaces. It can be instalt into tight spaces.
Its modular design allows a fast and effortless exchange of parts.
The Turbo-Dot Jet Valve TD118 has easily exchangeable nozzles inserts, tappets and media supply, which allows a fast customization for different application requirements.
The parts that are in contact with the media are separated from the actuator and therefore grant fast and easy serviceability and maintenance.
The Turbo-Dot valves operate electro-pneumatically at low voltages, although the control signal can be adjusted manually.
The dispensing cycle ends with a discontinuation of the control signal and closing of the valve (closed without power supply).
Recommended Media:
The Lerner TD118 all-round system dispenses low to high viscosity media. It is suitable for the exact application of a wide range of fluids, such as:
Solvents
Oils
Greases
Paints
Solder Fluxes
Silicones.
Application Examples:
These include micro dispensing applications in:
Electronics
Mechanical Engineering
Medicine
Information Technology
Consumer Electronics.
Download our Product Flyers - VERMES Microdispensing Systems
Download our Customer Newsletters
Download our Product Trailers